A manicure that attracts men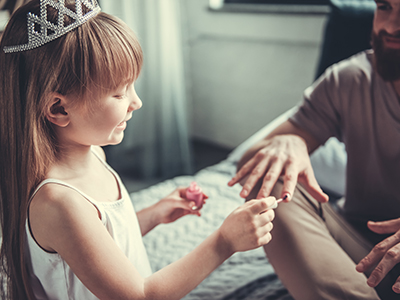 Women devote the maximum amount of time to their appearance. There is always something you want to change, add, highlight, beautify and even remove. And all these sacrifices just to be beautiful, confident and well-groomed. Are women capable of such feats just for themselves? Or all the same, and in order to attract the attention of the opposite sex. Of course, men are looking at the inner world of women, but do you agree that in the first place we see the shell of the person, so the appearance plays an important role. Men always pay attention to a girl's hands. And this is another reason why it is important to monitor your manicure and take care of the health of your nails. Girls you want to know what manicure attracts men? Read our article!
LENGTH AND SHAPE OF NAILS
Men like their manicures to be natural - nails of medium length or short. And the shape is either a soft square or oval. Long, almond-shaped or square nails can be intimidating for guys. Therefore, if you're aiming to attract male attention, it's better to forget about such nails.
THE COLOUR SCHEME OF THE NAILS
Here, of course, is a controversial issue. As you have noticed, men like everything natural. In the category of «naturalness» refers nude tones: translucent flesh, dusty pink, creamy beige and caramel.
But there is another part of men who are attracted to brighter shades, namely red. This particular shade is among men's favourites. Dark red and burgundy shades may also be included here.
If you're referring to brighter manicure shades, coral is worth a look. Men claim that it complements even the palest of skin and looks cute and fun.
First-hand experience: Anton Shiryaev (editor-in-chief of am.ru) said: «I definitely like red nail polish on girls' nails! It looks cool! But the long and pointy ones I'm just afraid of!)))».
NAIL ART
Many men like to have floral motifs and stripes on their nails. But, as for rhinestones, most men treat negatively. Also the bright and catchy design of all nails is not welcomed: in men's opinion it is enough one or two drawings on the whole composition.
From first-hand experience: KAN (artiste from the Black Star label) says that: «A girl's manicure is an important moment when getting to know her. I'm attracted to short square nails in a matte burgundy colour, white and even khaki are pretty. Immediately I say «no» to the abundance of rhinestones on the sharp nails.»
THE QUALITY OF THE COAT
What to choose, lacquer or
gel-lacquer
- it's certainly up to you to decide. But of course, is worth considering one thing - the varnish must be renewed more often, but the gel polish can safely wear four to five weeks. But it depends on the shade, if you have a brighter colour, the difference between the grown nail and the coating will be visible, and for men such details are important. By the way, to be confident in your manicure, it is advisable to pay attention to quality products and buy only products from
trusted brands
, it's better somewhere to overpay, but to show off a gorgeous manicure and well-groomed hands.
Always buy only professional products. Visit our
online shop at Global Fashion
. We guarantee quality!
And in general, the main rule is a measure in all things. Only then your manicure will harmoniously fit the image and become a decoration.
Read also:
1. Which manicure suits you?
2. French manicure. The symbol of femininity
3. A machine manicure is a super tehnology!
4. Gel manicure. Trendy shades 2021-2022
Published: 28.03.2022 10:47 Times Read: 31