Everything You Need to Know About Glass Nails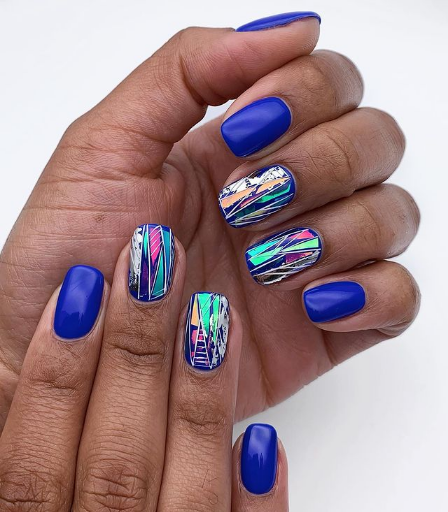 Korean beauty has long inspired everyone, and for good reason. With next-level skincare routines (like glass skin and cloudless skin) and stunning nail looks being shared daily, it's no wonder we're over here doing everything we can to recreate the ultra-effective, undeniably-chic beauty trends coming from the East. Most recently, we've become transfixed on glass nails.
What are glass nails?


Created by Eunkyung Park (the same manicurist who created lipstick nails), glass nails use finely-cut holographic foil to mimic the appearance of shards of glass.
Depending on the layout of the makeshift-shatter, the end look can range from that of an abstract piece of art to an expertly-crafted stain-glass window. Intrigued?
Ahead we share 16 examples of glass nails, ranging from simple nudes to bold pops of color.1. HOLOGRAPHIC GLASS NAILS


This high-shine mani uses a silver base topped off with holographic silver slivers to create the coveted glass nails appeal.
2. BLUE GLSS NAILS


We love how the color-changing holographic foil complements the cool-blue base of this glass manicure.
3. DARK MAGIC GLASS NAILS


Since most holographic foil is translucent, the best way to create a darker glass manicure is to start off with a moody black or dark gray base.
4. SILVER GLASS NAILS


Here we're shown how glass nails and rhinestones can play together for a manicure that's equal parts playful and chic.
5. NEON GLASS NAILS


Glitter, holographic foil, and neon nail polish pair together for a summer-worthy nail look that'll land you compliments wherever you go.
6. SIREN GLASS NAILS


If you love mermaids but want a darker take on the magical color palette, start with a black base and opt for green-to-blue holo foil.
7. ALMOND GLASS NAILS


Milky almond-shaped nails are statement-making all on their own.
8. MONOCHROME GLASS NAILS


Choose matching holographic foil and polish for a colorful nail look that changes in the light.
9. PASTEL GLASS NAILS

Milky, pale-pink polish topped off with pastel holo makes for a unicorn-esque nail look.
10. GOLD CRACKS

This golden twist on glass nails reminds us of the Japanese practice of Kintsugi, where cracks in pottery are filled with gold.
11. GREEN GLASS NAILS


Black and green pair for a villainous nail look that's perfect for Halloween or folks who simply like the darker side of things.
12. STILETTO GLASS NAILS


Glass nails to kill, am I right?
13. OXBLOOD GLASS NAILS

These oxblood glass nails are a great choice for fall.
14. COBALT GLASS NAILS

Want to go even bolder? Ditch a neutral base in favor of a bold blue.
15. MAUVE GLASS NAILS


This mauve monochrome is dainty and disco-ready all at the same time.
16. MAGICAL GLASS NAILS

Teal, blue, and purple holo top off a clear base for a crystal-like finish that makes these glass nails even more magical.
Source :
www.byrdie.com
Author: Rebecca Norris
Global Fashion Shop
provides you with professional nail care and modeling products.
Other articles:
- 16 times male celebs provided major nail inspo
Published: 21.07.2022 14:22 Times Read: 125