7 Ways to Effectively Dissolve Stubborn Cuticles at Home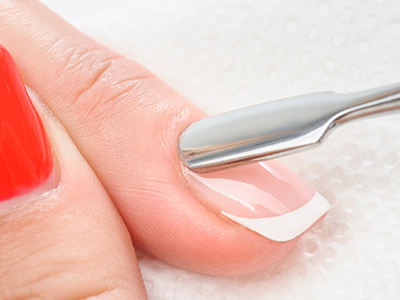 If you're working on improving your DIY mani skills, you may notice that, no matter how much you master painting within the lines, it never looks quite as good as a salon-quality paint job. We feel your pain. But we also have a way to remedy it! Chances are, you're forgetting one very important part of picture-perfect nail look: your cuticles, of course.


Think about it: Whenever you go to the nail salon, your manicurist takes time to clean up your nails before applying any polish. While this includes removing all trace amounts of lacquer, it also includes dissolving and pushing cuticles back so that each nail bed is clean and even. After all, you don't want to apply your polish only to realize that the base of each nail is wavy due to the varying degrees of your cuticles.


While you might not be able to head to a salon anytime you want, you can absolutely cater to your cuticles wherever, whenever. To help you do just that, we chatted with a few manicurists to explain seven DIY cuticle remover methods you can try at home.



MEET THE EXPERT

- Sarah Gibson Tuttle is a Los-Angeles based nail expert and the founder of beloved nail salon Olive & June, with locations in Beverly Hills, Pasadena, and Santa Monica.

- Beata Bealiwicz is a manicurist at Paul Labrecque Salon and Skincare Spa.



1. TRY PUSHING BACK YOUR CUTICULES IN THE SHOWER

Many people think that one of the best ways to get rid of stubborn cuticles is to cut them, but manicurists ask that you please don't. «Trimming can create more hangnails, jagged edges, and even cause infection,» says Gibson Tuttle. «Instead, when you're in the shower or bath let the warmth naturally soften your cuticles and then push them back gently with your thumbnail.» If you feel like you absolutely must trim, she says to only clip what's hanging, not the cuticle itself.



2. USE A CUTICLE-REMOVER PEN TO MELT THEM AWAY

Since cutting cuticles can get tricky fast, celebrity manicurist Deborah Lippmann says to leave the cutting to the professionals and use a cuticle remover instead. Fortunately for us, Lippmann recently came out with a Cuticle Remover Pen, which makes the dissolving process easy as can be. After applying the pen, Lippmann recommends using a stainless steel pusher to gently easy cuticles back.



3. DO SOME DAMAGE CONTROL WITH CUTICLE NIPPERS

Just as you should try to never cut your cuticles, you should never pull them either.


«If you have a little piece of skin hanging—just barely attached, use your cuticle nippers,» Lippmann says. «Eyeball that piece of skin. Place the head of your nipper at the base of the hanging skin. Close and open the jaw in the same spot but do not pull, simply place the cuticle nippers on the extra skin and open and close.» If you're curious as to why, hear us out: When you pull your cuticles, it can cause the tiny piece of hanging skin to rip centimeters down your finger, which will ultimately cause more harm than good.



4. TRY A DIY CUTICLE OIL WITH JOJOBA AND ALMOND OILS

According to Humblebee & Me blogger Marie Rayma, mixing up a blend of jojoba and almond oil can do your cuticles a world of good—especially when you're trying to push them back.


You'll need:

- 2 ml sweet almond oil
- 2 ml jojoba oil
- 1 ml rice bran oil
- 2 drops vitamin E oil
- 1 drop lavender essential oil
- 1 drop Roman chamomile essential oil

Instructions:


Rayma says to combine all ingredients into a glass dropper bottle. Shake well and use it as you please. After applying the oil, allow it to sink in for a few minutes before trying to push your cuticles back.



5. GET HANDS-ON WITH APPLE CIDER VINEGAR

In addition to strengthening nails, apple cider vinegar can help loosen cuticles so that they're easier to push back. All you have to do is soak your fingers in a bowl of ACV for five to 10 minutes and push back accordingly.



6. USE A BUFFER TO REMOVE UNRULY CUTICLES

If dissolving your cuticles doesn't seem to be working, Gibson Tuttle says to consider buffing them. «Use a nail buffer on dry skin to gently buff away any excess cuticles as needed,» she says. «Gently glide the buffer cube back and forth along the edge of the cuticle to erase dry skin and smooth things out.»



7. PREVENT STUBBORN CUTICLES IN THE FIRST PLACE WITH A HYDRATING SERUM

One of the biggest and best things you can do for cuticles is to keep them hydrated. The more hydrated they are, the easier they'll be to shape and push back.


Published: 06.04.2022 15:51 Times Read: 17