Manicure extractor. Master and client safety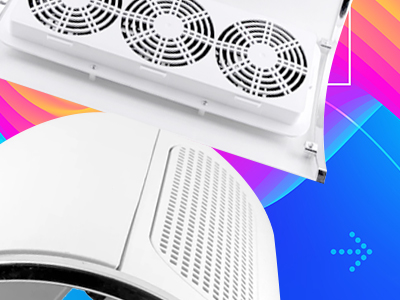 Today, women want to look their best, and every part of the body needs to be groomed, and nails are no exception. Well-groomed nails mean a beautiful and high-quality manicure. Nowadays, there is such a thing as an apparatus manicure, which is in great demand in the nails industry due to the fact that it is convenient, fast and safe. But besides the pros of manicure there are of course also disadvantages. Machine manicure technique is a process which entails a number of actions, such as milling cuticle, grinding nail plate, removing keratinized skin particles. Certainly the work process generates nail dust, which pollutes the air and gets in the respiratory system, and that is not good for both masters and clients. To avoid negative consequences, there is a solution - the use of a hoover, yes yes you didn't hear wrong - a hoover, which is represented by a manicure extractor.
Let's deal with what is a manicure
extractor hood
.
What is a manicure extractor?
The manicure extractor is one of the main equipment in the manicure machine technique, which is necessary for the technician to protect himself and the client from harmful particles entering the body and by means of which the manicure process will be more effective and cleaner. The hoods also help to remove unpleasant and toxic odours caused by the polymerisation of gel or gel polishes.
Go to catalogue
Benefits of Manicure Extractor.
- Prevents allergic reactions to harmful substances during treatment.
- Prevents air pollution in the manicure room.
- Draws in particles of gel, acrylics and sawdust.
- Keeps the work table clean.
Now let's talk about types of hoods.
Hood typesThe table-top cooker hood.
The budget version of an electrical appliance. The table-top cooker hood is a very compact, user-friendly, stylish and functional design. It does not have big dimensions and weight. More expensive models of cooker hoods have an on/off timer and a lighting system. This type of device is the most popular today.

Built-in hood
. This is a stationary appliance that is built into the nail table, priced more expensive than the others. Its advantages are high power and long service life. The disadvantages of this type are the lack of transportability.

Floor mounted hoods.
This type of equipment is distinguished by large dimensions, robust housing and high power. Such a fan perfectly removes all types of dirt and is suitable for all manicure varieties. This type of device is less common than the others. Such an extractor is also suitable for pedicures.

Manicure hood varietie
s
Of course the quality of the manicure hood, it is an important factor that determines the work with clients was at a level. This is not only a matter of quality, but also of design, as every technician wishes his or her workstation to be both groomed and stylish.
Exploring the huge range of models of manicure hoods, you can find a variety of forms of manicure dust extractors. The manufacturer manufactures manicure hoods in various formats:
- rectangular shape.
- rounded shape.
- square shape.
All shapes of tabletop manicure hoods have a stylish design and almost all are upholstered in leather, making them easy to care for, changing the bag and wiping.
Manicure hood power
The power of a manicure hood is an important consideration, as its output determines how well the hood cleans the air and collects all sawdust.
Let's find out what power manicure hoods have!
- Table-top manicure hoods with a capacity of 20-30 watts. These hoods collect dust well, but because of the low power will be suitable mainly for home use.
- Manicure table hoover with 40-65 watts of power. This type of vacuum cleaner easily manages to clean sawdust from the workplace. They are suitable for use in both salons and for home craftsmen.
There are also manicure hoods that have a power regulator, which allows you to choose the best mode for each client.
How do I take good care of my extractor hood?

All manicure equipment needs proper care, the hood is no exception. Proper care can extend the life of the appliance.
The basic rules for maintaining this appliance are as follows:
- cleaning the dust bag after each customer.
- In the case of high customer traffic, the dust bag should be replaced every one and a half months.
- Periodical cleaning of the dust bag.
- Clean the hood with damp cloths or sponges without the use of chemicals.
There are several factors to consider in order to simplify a worthy choice of manicure extractor hood.
Factors in choosing a manicure hood
- Power.
- Length of the cord.
- Availability of filter and interchangeable bags.
- The presence of a backlight.
- Timer and automatic switch-on.
- Ergonomic/stationary installation.
Buy a hood
We've shared with you the secrets to choosing a manicure extractor, now the choice is yours. But remember the fact that to choose a good hood, consider your wishes. Your decision needs to be well thought out!
Read also:
1. How to choose a manicure lamp? Let's understand the nuances!
2. Lamps for lighting in the nail industry. Which lamp to choose?
3. Manicure kit steriliser - looking after your customer's health
4. Manicure router. Manicure art helper
Published: 24.03.2022 19:40 Times Read: 35