Searches For Abstract Nails Are Way Up—Here's How to Wear the Trend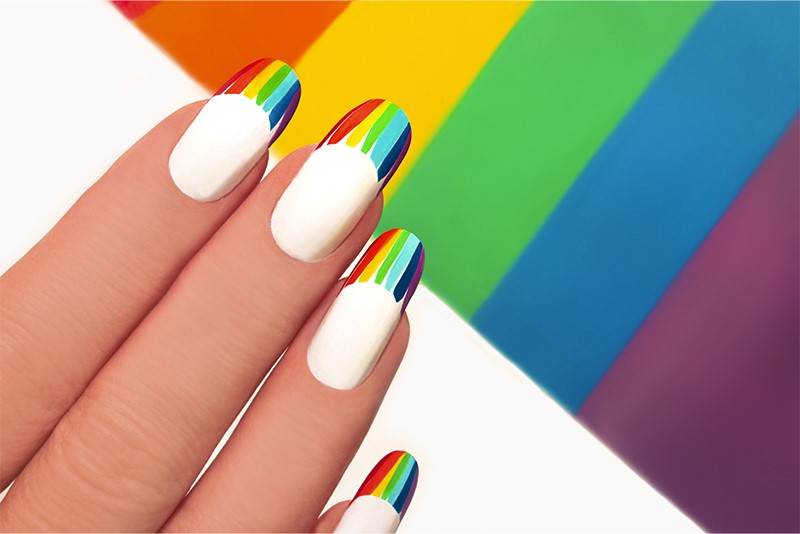 There's no denying that abstract nails are on the rise on Instagram. The best part about these less-conventional nail looks is that they're easier for everyone to achieve, as they don't follow a single set rule in regards to the trend. So, if you're someone who likes squiggles, throw some in; if you fancy dots, paint a few on; if you love '70s vibes, illustrate it on your nails. The point is, abstract nails make for some of the most unique and universally attainable manicure ideas. And, as a result, Instagram is teeming with posts dedicated to the trend.


So, what are you waiting for? If you're looking for ways to switch your nail look, you'll be excited to find abstract nail ideas below.


1. CRANBERRY SQUIGGLES

Here, cranberry, burgundy, and chrome play together in a design reminiscent of Jenna Rink's infamous mini dress. Just consider this a moodier take on the eye-catching design. Given the intricate nature of the lines, you might want to save this abstract nail art idea on your phone and ask your manicurist to bring it to life.
2. THE FEMALE FORM

Pale pink and peach hues give this abstract design a feminine feel. And it's fitting given the abstract shapes present are actually faces and female forms.
3. BRIGHT SPLACHES OF COLOR

We love how bright this abstract manicure is. The best part? Since it doesn't focus on clean lines as much as it does splotches of color, it's an easier nail art idea to recreate yourself. Just pick your colors and start swatching.
4. NEUTRAL ABSTRACT

Just because abstract art is typically bolder than other forms doesn't mean that an abstract manicure has to be loaded with color. Case in point? This nude mani topped off with gold foil.
5. MATTE ABSTRACT

Abstract nail art can be paired with other trends. Here, you can see how mix-and-match designs look with the recent Skittles mani trend.
6. TERRACOTTA ABSTRACT

Prefer earthier vibes? This manicure—which features cream, terracotta, and olive green hues—will fit your fancy. While the lines are fairly easy to recreate, the squiggles may take a bit more time to master.
7. CHARCOAL ABSTRACT

Here we have another easy-to-recreate abstract mani idea. Start with charcoal polish and then swatch cream and green hues overtop. Don't forget topcoat to achieve that shine.

8. FEMININE LINES

The female form is a popular subject when it comes to abstract nail art ideas. Looking to DIY? Start by painting your nails with sheer polish in the color(s) of your choice. Then, go in with a toothpick or ultra-thin lining brush dipped in black polish.
9. LOTS OF DOTS

With a toothpick or dotting tool in hand, you'll be able to easily bring this dotted nail look to life. As chic as the black dots look, you can always mix in other colors, too.
10. NUDE SQUIGGLES

If you're someone who sticks to neutral nail looks, know that you can still get in on the abstract nail trend using the same hues you're used to. Though, given the precise lines, you may want to enlist the help of a pro nail artist.
11. AUTUMN SUNSET

Whether you're a fan of warm colors or you wish it was perpetually fall, this red and orange abstract manicure will make you swoon. And, if you prefer cooler colors, you can always copy the design in the palette of your choice.

12. EVIL EYE ABSTRACT PRESS-ONE

Evil eyes? Abstract lines? A neutral nude base? There's so much to love about this boho nail design.
13. TRIPPY SWIRLS

Sure, it's the same design on each nail, but there's no rhyme or reason to how the squiggles go. We love this funky design.
Source :
www.byrdie.com
Author: Rebecca Norris
Global Fashion Shop
provides you with professional nail care and modeling products.
Other articles:
- 28 elevated nail designs for special occasions
- Oval nail designs that''ll convince you to round your edges
- How to create water marble nails at home
- 25 natural nail designs for the manicure minimalist
Published: 13.05.2022 13:36 Times Read: 20